INTRODUCTION
Pittsburgh provides a successful blueprint for the economic revital­i­sation of Rust Belt cities. The Appalachian Regional Commission has supported regional economic devel­opment since 1965. Federal bipar­tisan legis­lation currently under consid­er­ation could finance mine recla­mation projects throughout Appalachia.
In 1965, the Appalachian Regional Commission (
ARC

) was formed as a regional development agency. Since then, the federal-state partnership has financed economic development in the Appalachian region, particularly in areas affected by the coal-industry downturn.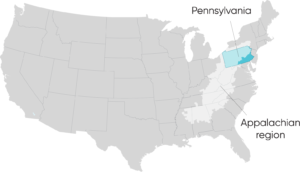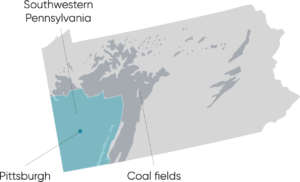 Overview
Pennsylvania

USA

Size (sq. km)
115,883
9.15 million
Population per sq. km
110
34

GDP

per capita
€45,581
€52,303
Median household income
€51,949
€52,434
Per capita income
€28,742
€28,507
Unemployment rate
4.5%
3.6%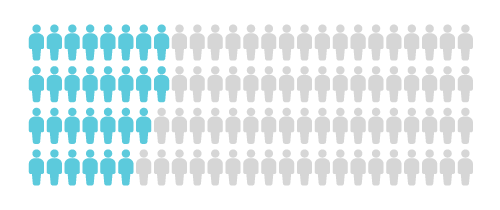 25% of Pennsylvania's residents live outside urban areas.
Electricity generation mix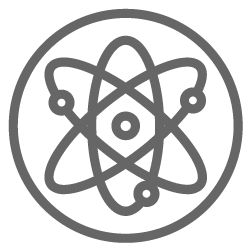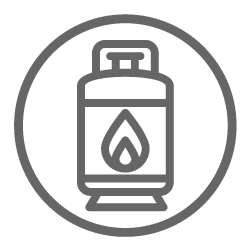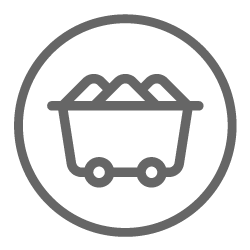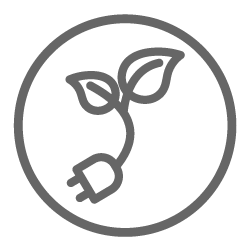 Over the past two decades, Pittsburgh has intro­duced various measures to shed its reputation as a 'Rust Belt' city and establish itself as a centre for biomedical research, banking, and education. In 2017, Pittsburgh Mayor Bill Peduto released plans for major invest­ments in renewable energy infra­structure, including programmes that would provide a 'just transition' for former coal miners, as part of a holistic approach to climate change mitigation.
Coal industry